Clean bilges mean healthy habits
We want a future where we never see oil slicks on our waterways or in marinas and harbours again, and to witness a positive impact on the marine ecosystem within our lifetime.
If BilgeAway is widely adopted it will have a hugely positive impact on the future of our waterway, our live and the ecosystems that support it.
It can help all boat owners and users reduce pollution and safeguard the environment easily and inexpensively.
How does Bilgeaway work?
The BilgeAway filter is the world's first truly environmentally-friendly hydrocarbon filtration solution. It is designed to extract hydrocarbons such as petrol, diesel and engine oil that may have contamination water. BilgeAway sits between the bilge pump and the outlet to filter and remove the hydrocarbon content and renders it non-reactive (non-harmful).
The filter media from a BilgeAway can be composted once used, giving environmental peace of mind and stops contaminants entering land environments through landfill.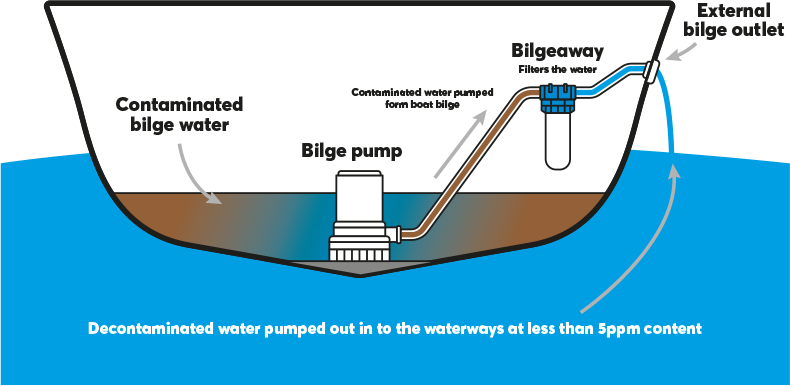 ---
Why choose Bilgeaway?
The BilgeAway filter is the world's first truly environmentally-friendly hydrocarbon filtration solution. Designed to extract hydrocarbon contamination (petrol, diesel, engine oil, etc) from water, BilgeAway removes hydrocarbon content and renders the hydrocarbons non-reactive (non-harmful).
This is a global first because while other filter systems trap hydrocarbons, they fail to de-contaminate them, and only act as a barrier to pumping hydrocarbons overboard. Once the filter's blocked/ fully used, the damaging hydrocarbons contained within it must be disposed of. Traditional filters typically transfer the problem to a landfill site, where contaminants can re-enter the environment.
BilgeAway renders hydrocarbons non-reactive, meaning that for the life of the hydrocarbon it cannot damage the environment. The filter media can even be composted once used, giving environmental peace of mind.
BilgeAway is designed for use with standard bilge water contamination levels. It is not intended to deal with bilge areas that are subject to major hydrocarbon leakage (fuel/oil leak). the 10 inch filter max capacity is 0.45 litres of hydrocarbon. Once this limit is exceeded, hydrocarbons will pass through the filter untreated. Major hydrocarbon leaks should be dealt with separately and the filter cartridge replaced after any incident.
The filter has been extensively tested with canal, river and ocean based waters to ensure blockages do not occur. However, if bilge area's significantly contaminated with large amount of debris, sediment or biomass, then blocking may occur.  Situate the bilge pump in an area free from large debris or where large quantities of debris may collect.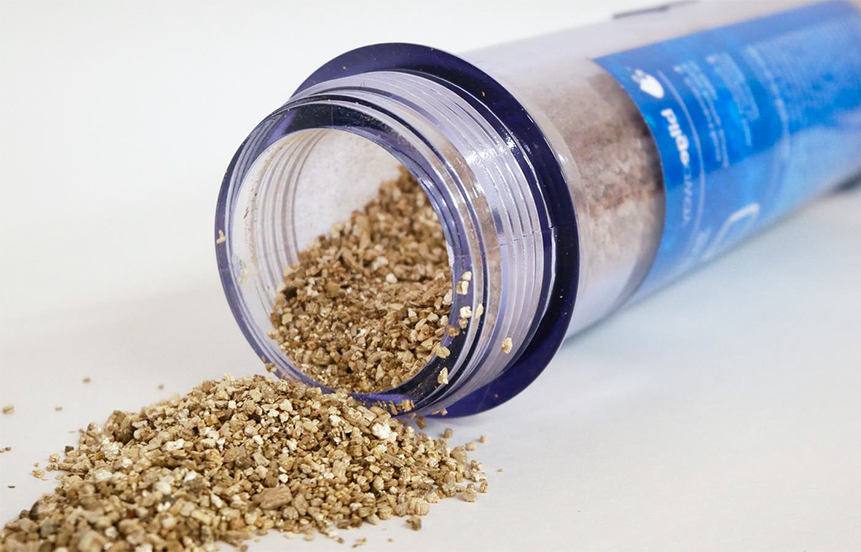 The history of Bilgeaway
BilgeAway was a joint development by River Canal Rescue Ltd and the designers at Harena.
Harena is an environmentally-friendly 'spill kit', developed to deal with oil and fuel leaks. The product was designed for petrol station forecourts, garages, workshops, plant rooms and equipment sump areas. It's currently used to deal with large-scale spillages on land, helping to reduce hydrocarbon contamination in soil worldwide.
River Canal Rescue Ltd (RCR) is a marine breakdown recovery and emergency rescue organisation based in the UK. RCR was introduced to the product in 2017 at an exhibition and quickly realised the impact this could have on the world's waterways. RCR went to work proving the concept and successfully built a prototype. The firm's engineers then worked with the developers of Harena to develop a filter for sale to the marine market.
Currently boat owners face limited consequences when disposing hydrocarbon contaminated water into the environment. All vessels with a fuel tank have a 'sump area' known as the bilge, to collect spillages and leaks of hydrocarbons and water.
Bilge water is internationally recognised as a mixture of water and hydrocarbons. Most boats require this area to be periodically emptied to avoid the vessel sinking. Timescales range from every day to every year, depending on factors such as vessel age, failing components and vessel design. Because of this, a bilge pump is installed to allow the liquid to be pumped out of the vessel.